Anyone who is serious about keeping their home spotless knows that it sometimes takes an entire arsenal of attachments, tools, and cleaning products to get everything sparkling again.
The only downside to this is that it can sometimes be a struggle to lug around so many different items, which is why many look for ways to do more with less by choosing products and tools that can pull double duty.
Clean Windows Without Messy Rags Or Cloths
When it comes to cleaning windows, messy rags or cloths can leave behind streaks, smudges, or even lint, making the windows look almost as dirty as they started out!
To avoid this kind of headache, there are two tips that anyone can do. The first tip is to make sure that the cleaning solution is designed to be streak free as these tend to clean better.
The next tip is to re-purpose a floor squeegee as a window cleaner. The reason for this is that squeegees can help remove residue and do not leave lint, dust, or streaks behind. This means the windows get cleaned faster than ever!
Keep Shower Doors And Walls Spotless
As many know, shower doors and walls are notoriously hard to keep clean. They often end up with water spots and stains that are tough to remove, even with high powered cleaning products.
One option is to regularly mist the walls with a product designed to prevent build up and stains caused by hard water. This can be done after every shower, or once a week, depending on the product.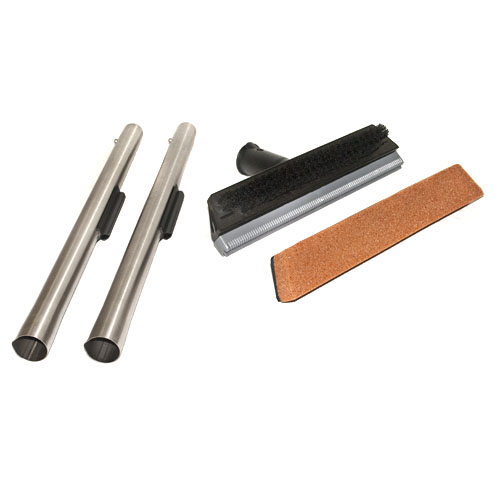 One of the better options is to keep some type of squeegee in the shower and use it to wipe down the walls. It can be any type, even one meant for floors, so long as it has a shorter handle so it can be moved around easily.
After showering, simply take the squeegee and use it to wipe down the shower walls and doors to remove any excess water. This will help reduce the amount of water spots that appear after showering.
For easy access, some may find that keeping the tool in the bathroom helps to remind family members that they need to clean up after each shower to reduce water stains and spots.
Another option is to make a habit of coming through once or twice a week with a cleaning product and give the walls and doors a good scrubbing, then use the tool to remove any extra product or water.
Have A Wet Weather Kit Near The Door
One final tip for keeping the house clean without having to spend all day on it is to prepare a wet weather kit and keep it near the front door, or anywhere people come in and out of frequently.
A wet weather kit can be as simple as a very absorbent doormat or a mud scraper, or include valuable tools like a vacuum cleaner to pick up any loose debris. Paper towels may also be useful for removing mud and snow from shoes.
Another great tool for a wet weather kit is a small squeegee that can be used to wipe the floor or even the doors or entryway after coming in from heavy snow or rain.