Purchasing a complete unit package has several key advantages. The first is that it contains a number of accessories that can be used to clean nearly every part of the home without needing to buy them separately.
The advantage to that is that the cost of purchasing it as one set is often lower than buying everything as it is needed. For many, this is the best reason to always look for a complete package when considering a new sweeper.
The Basic Unit And Necessary Parts For Every Day Use
Rainbow vacuum complete units contain all of the basic essentials for getting cleaner floors right out of the box. What comes in the box often depends on the unit purchased, but most all of them include at least a few basic things like the nozzle and a few tools.
On the E-series, the Power Nozzle (PN-12 for the newest E-series models) is included, giving owners what they need to start cleaning their floors the very same day. Other Power Nozzle models may be used for older E-series units.
An accessory caddy is another basic essential that is included in the package. The caddy holds all of the accessories, including ones that may be purchased later, keeping them in easy reach and less cluttered.
While not an attachment, a dolly is also included. The dolly is used to hold the unit and makes it easier to move around since it can roll around. This makes it much easier for anyone to clean the house without lugging a heavy cleaner around.
Useful Attachments For Cleaning Everywhere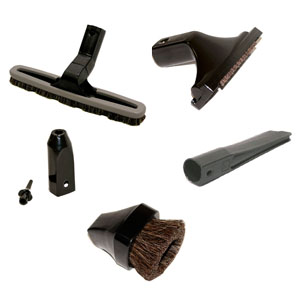 Rainbow vacuum cleaner complete units also include a number of very useful attachments that can be used to clean around the home. Some may not need all of them initially, but most find that they come in handy at some point.
A crevice tool is one of the most used attachments next to the Power Nozzle. The crevice tool is used to get into hard to reach areas like under the couch, or between the stove and the counter.
Crevice tools can also be a lifesaver for cleaning in cars as they can get in the tight and hard to reach areas in them. This makes it easier than ever to clean the car or van out at home.
A dusting tool is typically included, and fits a variety of different models such as the E-series, and several of the D-series models. Of the D-series, the 4SE, 4, 3, and 2 all take the same type of dusting tool.
The dusting tool can be perfect for picking up dust, debris, and even clumps of mud from surfaces. Some even use it to clean their curtains, though care should always be taken to make sure the curtains are not damaged by it.
Instructions, Manuals, And Warranty Information
Rainbow vacuum cleaner models also come with a wealth of information on how to use them and how to care for them. The owner's guide is a great resource as it explains how to use the cleaning tools and how to keep them clean.
Troubleshooting guides are also included, as well as a welcome guide. These should be read in order to know how to hook up each of the attachments. Tips on how to get more out of them may also be included.
Including in the package is also information on what to do if the Rainbow vacuum complete units need any work or additional parts. The information should be kept in a convenient location, such as an address book, or in a file cabinet.